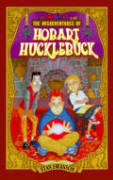 The Misadventures of Hobart Hucklebuck
by Stan Swanson
208 pages
ISBN: 978-0-9787925-2-7 (paperback edition)
Cover price: $9.95
ISBN: 978-0-9787925-3-4 (hard cover edition)
Cover price: $16.95
1st printing: October 2007
BOOK SUMMARY
Things are not as they should be in Pennywhistle. Enchanted toasters are not toasting, enchanted sprinklers are not sprinkling and Hobart Hucklebuck's origami messenger birds are suddenly attacking him. Someone seems to be draining the power from all of the enchanted items in the village. But who could it be and why have they implicated Hobart's grandfather? The Misadventures of Hobart Hucklebuck follows Hobart and his friends, Specks Spacklethack and Rosie Rumpleskirt, as they try to solve this mystery and free Hobart's grandfather from the Tower of Tribulation on Mumblemonk Mountain. The trio's investigation into the mysterious happenings on Druid Lane gets them into hot water more than once and ultimately brings them dangerously close to disaster not only for themselves, but the entire village of Pennywhistle.
REVIEWS AND COMMENTS: The Misadventures of Hobart Hucklebuck
"What a fun read! Stan Swanson has spun a clever, imaginative tale in a fantastical world that is at the same time marvelously grounded in human relationships that young readers will identify with. From his disheveled red hair to his cat phobia, Hobart Hucklebuck is a memorable main character who possesses an 'every kid' quality that makes it easy to root for him as he uses his clumsy magic to seek the truth and fight a frightening villain. The Misadventures of Hobart Hucklebuck will keep readers captivated through the final page and voracious for more."
--Jenni Hadden (Freelance Writer/Editor)
"Hobart has great imagination, excitement and humor... a cast of memorable characters set in a well-developed fantasy world."
--Danielle Stockley (Scholastic Book Club)
"Recommended for young readers, who will surely get a thrill from the colorful characters, the weird sounding menu items and the thrilling action of the penultimate chapter." --Amanda Richards (Amazon Top 100 Reviewer)
"With Hobart Hucklebuck leading the way, children should find their imaginations going full tilt - and enjoying the experiences immensely! As Hobart and his friends try to solve the mystery, young readers' hearts will race and they'll be eager to finish this one. I'd consider this an excellent choice for any youngster able to handle Chapter books and it isn't overly long either. Chapter titles are very creative, as is the entire book. For those who feel they MUST throw in a little education along with a good read, you'll find plenty of examples of alliteration in this one as well as a unique writing style. There is also humor and wonderful characters. For those too young to handle Harry Potter, this is an excellent alternative, just the thing to spark young imaginations and provide a rollicking fun time as well."
--Jane Corn (Amazon Top 500 Reviewer)
Ordering Information for The Misadventures of Hobart Hucklebuck